June 22nd, 2012
It's rubbish out right?
This weather is inhibiting so much growth which is frustrating; had 3 Cucumber seedlings shrivel and die when last year they were thriving by this point in the year.
Still, lets not get all negative. We're cracking on irrespective and seeing what we can get out of our small plot. We currently have the following:
Raspberries
Strawberries
Courgettes
Mangetout
French beans
Peas
Broad Beans
Broccoli
Curly Kale
Red and White Onions
Rhubarb
Beetroot
Garlic
White Grape
tomatoes
Cabbage
It's a new plot and being as such we are having a huge problem with pests! they seem to come out of everywhere and have decimated several pea shoots which appear to be the equivalent of ice cream to a 10 year old. Feel a bit genocidal wiping out so many of the little buggers but it's the only way they learn…
Here are a few pics to show how the plots are getting on:
We decided to make the most of the space and sow lettuce, onions and Mangetout all together. The netting is an attempt to keep the cat out who seemed to enjoy rolling around in the sun. 
'From small beginnings come great things' This courgette plant is quite behind with late (lazy) planting and the bad weather. As soon as it hit the soil, the pest beacon was invisibly triggered…and on they came.
The Onions are doing really well. We covered them to keep off the birds and they have got on so blooming well! Except when the cat went and sat on the netting on the sun. Those wondrous growths to the right of the picture is the broccoli which will over winter and be ready come early next year (why does it take so long!)  Oh - and the raspberry bush is in the background - looking pretty small right now but it'll crack on through the summer and produce bountiful greatness come September.
The garden is around 30ft in length and is already set to produce lots and lots of veg but we're looking for more ways to get more out of the space. We eventually want every sunny (and not so sunny) surface covered with growing deliciousness.
We'll keep this updated to see how things go.
March 18th, 2012
Connected Roots is a new enterprise that aims to get young people employed. We know you've all heard this before and we're sorry about the imitators: this is for real.
We want to take you and train you with skills to become urban agriculturalists. Once trained, you'll be able to go out and gain commissions for your skills. We'll help every step of the way, and yes this means with the commissions too. 
Why Urban agriculture?
Well, you heard about the food crisis? - people not having enough money to eat? - that is happening right here in the UK, and you have the power to change this.
Over 50% of the world's population live in cities now - these people need to know how to feed themselves because farmers can't provide enough food for everyone, they need you.
People pay seriously good money for skilled crafts-people - that's what you'll be when fully trained - and with a growing population, your skills will be in more demand than ever.
There are big waiting lists for growing spaces (Allotments) in the UK - people overlook what they can grow at home, many don't know what, how and when they can grow - this is where you come in.
What we're looking for:
Young people aged 16-24 years of age
You should be able to legally work in the UK
We want you to succeed and bring in a decent wage for yourself; you should want this too.
We are beginning training now in East London and want to hear from you if you think this is something you would like to do. Get in touch at matt@connectedroots.co.uk or @connectedroots on Twitter. 
Seriously, no question is too small, we'll tell you everything you need to know and how the process will work.
=============================================================
Anyone reading this, please share it with others. If you know anyone who you think might like to take it up, tell them - you could change their life.
December 29th, 2011
Many Countries (and intelligent local governments…) are now making it mandatory that any new buildings with flat roofs have gardens on them. Such fantastic opportunities lies ahead with the proliferation of this concept.
Hopefully here in the UK the same will happen and this will also be employed retrospectively for existing buildings once it begins to catch on.
Here are some interesting examples we have found: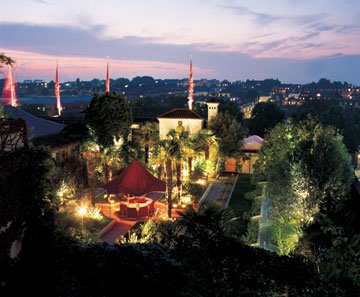 September 27th, 2011